Discover the quick way to make your website mobile friendly.
No changes to your website required
No additional mobile site to manage
Why mobile web is important
Mobile web browsing is increasing rapidly and today's mobile devices give people the power to access information anywhere and at anytime.
More people will use their mobile device to access the internet than their PCs by 2013[1]
Mobile users are a demanding bunch and expect the same experience and choice as they find on desktop websites.
Expecting them to browse a website designed for a desktop is not the solution.
60% of users expect a mobile site to load in three seconds or less[2]
57% of users said they would not recommend a business with a bad mobile site[3]
1/3 of UK respondents cited difficulty navigating websites on mobile devices as a reason not to use it again[4]
Not having a mobile optimised site could become a barrier for your business. However, creating a mobile site that utilises the immediacy provided by a mobile device will lead to an increase in purchases.
74% of smartphone shoppers make a purchase, whether online, in-store, or on their phones[5]
Sources: [1] Gartner, "Gartner Highlights Key Predictions for IT Organizations and Users in 2010 and Beyond" [2],[3] Compuware, "What Users Want From Mobile" [4] Anntenna, "2011 Mobile Internet Attitudes Survey" [5] Google, "The Mobile Movement: Understanding Smartphone Users"
The process
Super fast downloads, simple intuitive navigation, clear layouts, touch friendly, accessible and seamless.
Our technology
Keep updating your existing website, we don't need to make any changes to content or code.
Synchronised
Content that is appropriate to a mobile visitor is gathered and automatically synchronised with your website.
Optimised
Content is optimised for quick download and layouts are redrawn for small screens.
Localised
Features such as maps, click to call, social networking and advertising can be added.
Mobile visitors have a great user experience.
If you'd like to get technical we'd be happy to discuss the intricate details - Get in touch.
Our expertise
We have the technology to build mobile websites, but we are not simply offering a product like many other agencies.
We've been delivering digital strategies for more than 10 years and over this time we've built a wealth of experience, understanding and lasting relationships with our clients.
We use our expertise to deliver a mobile site that is unique to you.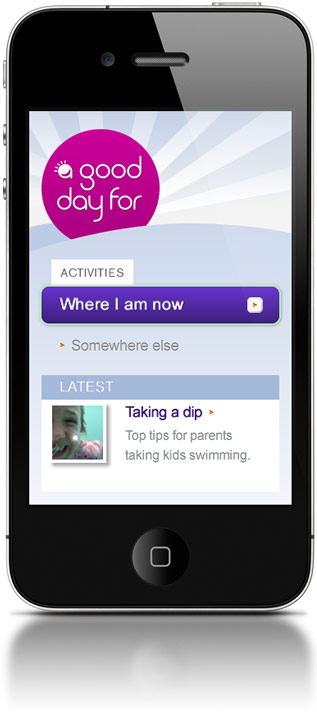 Discovery
We will work with you to create a mobile strategy that is right for you. Together we can discuss why people would want to view your website from different mobile scenarios i.e. viewing your site on the move, or sat on the sofa at home. By agreeing a set of scenarios we can decide how best to translate your site into a compelling mobile presence.
Design
We will design a user interface that is not only quick, intuitive and accessible, but something that seamlessly reflects your brand and builds continuity across all your platforms.
Build
Whether we are integrating e-commerce, reams of information or rich media we optimise for performance, only taking what we need to deliver the content as fast as possible. We understand that not everyone will have a 3G / wifi connection when looking at your site - remember the 3 second rule?
Testing
Mobile devices take on many different shapes and sizes. We will make sure your site is perfect across a multitude of platforms from iOS (iPhone & iPad) and Andriod to Blackberry, Symbian and Windows Phone.
SEO
By maintaining page structure and following SEO best practices we will ensure search engine traffic can instantly find you.
Social
Social networking is becoming an ever increasing valuable asset. We will help you integrate the likes of Twitter and Facebook into your mobile website.
Speed
Quick turn-around is important. Contact us and we can let you know how long it would take to get your mobile website launched.
Get in touch
We'd love to tell you more about what we do.